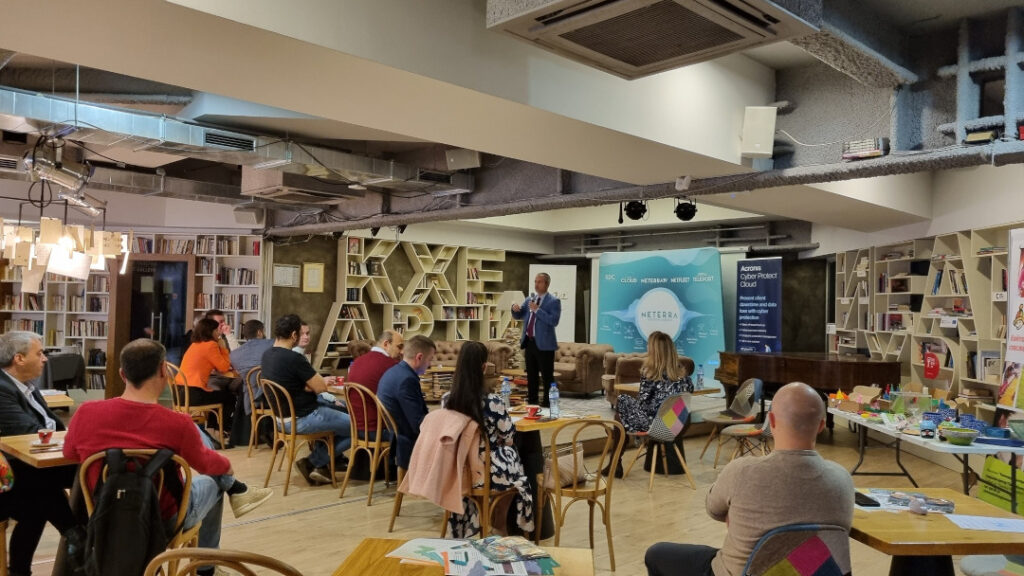 30.11.2022 162 0
Small and medium-sized enterprises in Bulgaria (SMEs) that want to implement a system for archiving their business data with Neterra can do so with grant funding of up to BGN 18,000 from the European Union (EU).
The EU grants the funds under the project "Solutions in the field of information and communication technologies and cyber security in small and medium-sized enterprises."
Who can participate?
Companies who wish to receive this grant must be registered before 31.12.2019 and belong to the industries for which the financing is intended. Certain sectors are not covered such as agriculture, mining industry, education, and construction, and some areas of companies in the human health care and social work, activities in the field of information technology, and information services sectors.
The application deadline is December 19, 2022.
What is the offer?
Neterra offers a system for archiving business data in partnership with the world leader in cyber protection Acronis. The solution fully meets the criteria of the European Union.
In addition to making a safe, secure, and 100% authentic data backup, the system protects archives from encrypting viruses (ransomware) and malware through artificial intelligence and advanced machine learning algorithms.
Prices and parameters
The price of the Neterra service starts from BGN 500 per month.
Depending on the client's business needs, the solution can include up to 5 TB of archived data and an unlimited number of devices – mobile devices, workstations and servers.
The company can also provide an additional comprehensive suite of anti-malware protection, URL filtering and vulnerability prevention on up to 20 workstations.
If necessary, companies can also include additional monitoring of software assets, application of corrections (patches) and monitoring of the health of disk drives on up to 20 workstations.
What do you get?
The Neterra business data backup system contains:
• Analysis and preparation of a plan for archiving the information processed by the enterprise – Neterra helps companies to draw up a plan for archiving and accessing the information daily, in accordance with the requirement for the expiration of this information.
• Automatic backup of information from servers/workstations/mobile devices according to the prepared plan – all devices will be protected from information loss.
• Built-in protection against ransomware attacks. Ransomware is malicious software that encrypts files or stops customers from using their computers until they pay money (ransom). If the computer is connected to a network, the ransomware can spread to other computers or storage devices on the network. Neterra protects devices from these types of attacks and reduces the risks.
• Possibility of integration with centralized access management– through a centralized console, Neterra customers can manage their archives. They may restore files and work folders, being sure of the authenticity of the documents, as well as their integrity.
• Develop backup recovery procedures and conduct at least one test recovery – Neterra helps customers to develop backup and recovery procedures so that they can have confidence in the functionality of the chosen solution.
• Virtual server for information storage – information is stored encrypted in a cloud environment, compliant with all necessary protections.
Why choose Neterra?
Neterra is an independent global provider of telecommunications services. The company partners with both the world's largest companies and small and medium-sized businesses. Neterra has been providing international connectivity, data center services, managed network services and security for over 26 years. The company owns and manages four data centers and its own global network with over 200 points of presence in more than 55 countries.
Neterra's overall customer satisfaction score (CSAT) is 88%, a record for the telecommunications industry, and 71% of Netera's customers would recommend its services to colleagues or business partners (Net Promoter Score), placing the company in the top 1% of the best telecoms in the world.
Neterra is certified according to the recognized standards for quality management, services and information security – ISO 27001, 9001, 20000-1, as well as according to the international standard for financial security PCI DSS.
Neterra's portfolio of services includes:
• Fully managed fast and secure internet access with 24/7 support – dedicated Internet (DIA), broadband, international connectivity, infrastructure
• Data center services in four EU data centers, Tier III class – sdc.bg
• Managed IT services, leased servers and flexible cloud services – Neterra.Cloud
• Protection from DDoS attacks and Backup-as-a-service solutions
• Global Internet exchange platform – NetIX.net
• Satellite services – Sofia and Thracia teleport
• IPTV and audio-video content distribution platform – Neterra.TV
• GPS vehicle tracking system – NetFleet.bg
For further information and assistance, do not hesitate to contact Neterra!
Phone: 02 975 16 16
Email: contact@neterra.net