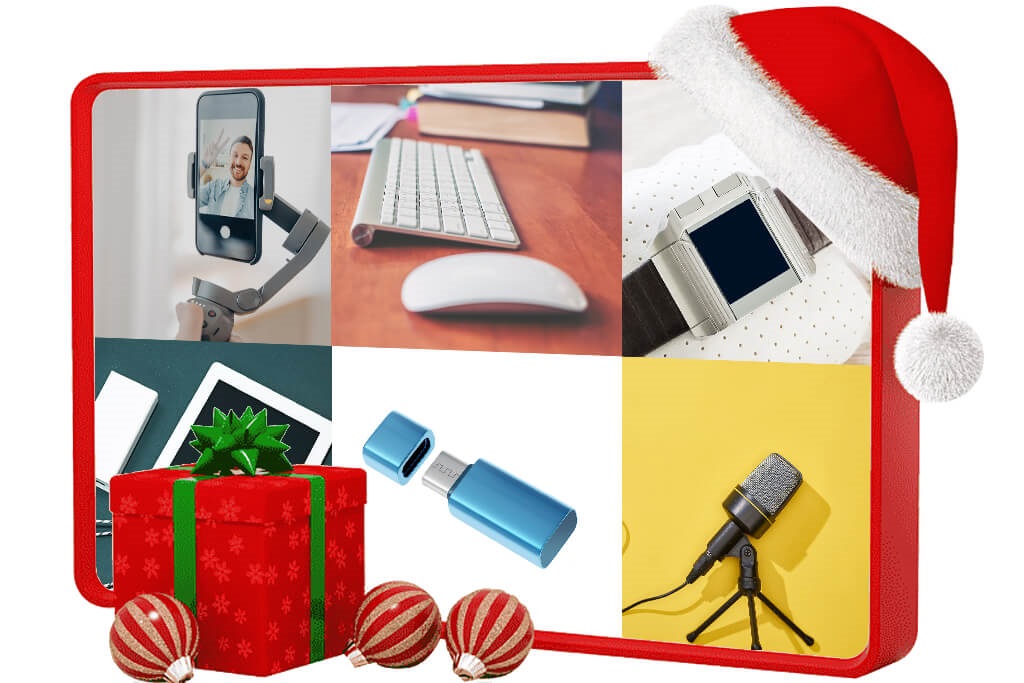 01.12.2021 389 0
Ho-ho-ho! The Holiday season is here! And you, as the great boss you are, have thought about your dear employees. Your best team that always brings amazing results, never gave up, and can turn a dollar into a million. But what gifts could be worthy for such incredible workers? Don't worry, we have the best Christmas tech gifts for your employees!
You will be surprised how improving the office environment and being a bit generous around this festive period will boost productivity for the whole of next year.
For the remote workers – VPN service
You must take very good care of the security when it comes to remote workers. Since the COVID-19 pandemic started, this type of worker has grown massively. Many people have found that they can easily work from wherever they are without the need to come to the office. That is fine, but don't forget about the security aspect: Keep their connection safe, no matter if they are using their home Wi-Fi network or a Starbucks cafe's one. A VPN (Virtual Private Network) is a connection that will create an encrypted tunnel, between the users' device and the endpoint. That way, even if somebody steals data, it will just be useless, encrypted gibberish. You will keep their traffic safe and your company safe too.
A VPN service can cost you between $2 and $10 per month per user. Popular and trusted providers that you could try are NordVPN, Surfshark, and TunnelBear.
With a VPN for every key worker in your company for Christmas, you can be ready for any future lockdown situation without worry.
For the sales' team – standing desks
Your sales team needs to be top performers! Suited and booted and ready to go. So, why not get them standing desks? That way, they will improve fitness, reduce sedentary time, lower blood pressure , have better posture and less back pain, AND have fewer wrinkles in their clothes!
There are many health benefits that standing desks brings. The price usually is around $250 to $750 and there are many brands available. Check local furniture stores and desginers, or head out to a global chain like IKEA.
For the marketing team – gimbals, microphone, and light
All digital marketers love to create social media campaigns and video is a big part of the future of content marketing. Everyone is hosting live events to stay front and center in the public eye even during COVID-19 times. Get your marketing team the essential tech for Christmas and you will see how the production value massively increases. The mobile phones of today are already powerful devices with 4k resolution, but due to their small sizes, they have some restrictions.
1. Gimbal stabilization. A simple gimbal for a mobile device could cost you around $100 to $200 and it will add great stabilization without any image cropping. You can choose from brands such as DJI Osmo Mobile 5, or Zhiyun Smooth 4.
2. Microphone. A small shotgun microphone will set you back around $50 and you will dramatically improve the sound quality. A Rode VideoMicro or a BOYA by-MM1 VS could be great for a gift.
3. LED light. A set of basic LED lights for video will cost $50 to $150 and it will hugely help the small sensor of the mobile devices. You can go for a known brand and choose Aputure AL-M9 or go with one of the many Chinese (Viltrox, Came-TV, or YOUKOYI) that offers an incredible price-to-performance ratio.
For the IT staff – USB hubs and dongles
We know that you have already provided excellent electronics to the IT department. But having a lot of separate tech around immediately creates the need for connecting them. Since the arrival of the new USB Type-C connector, there are many new and exciting USB dongles and hubs. You can find different ones that will allow you to connect a smartphone to external memory, an external screen, or peripheral devices. You can find charging hubs that can support wireless charging, fast charging, and have multiple USB plugs, enough for charging all available smart devices – even laptops since USB Type-C supports up to 100W power delivery!
You can find great USB dongles from brands like Kensington, Dell, Anker, and Lenovo for around $25 to $150.
And regarding charging stations hubs, Satechi, Anker, and Aukey have some great products costing between $60 and $150.
For the financial team – multiple screen setups
Adding extra monitors has been a well-known way to add productivity – this way they will have a lot more space to put spreadsheets and see diagrams clearly. Depending on your office computers, you can add one or even two monitors per device, and you'll be surprised how much faster people can work if they don't need to open and close windows constantly.
When it comes to office work, color accuracy doesn't matter. You can go with whichever monitor you like that's a decent size. 20" is an excellent choice and you can go even bigger with up to 30" and still find a place for two on a desk. Prices may go between $100 and $500 per monitor. HP, Dell, and Samsung offer excellent quality.
For the human resources team – portable power banks
Apart from searching for great talent and hiring the best and most perfectly suited people for your company, HR also organizes plenty of events. They need to be prepared well.
For this Christmas, give them an impressive set of power banks. Choose some with at least 20000 Mah and can support quick-charging technologies. Bonus points if the power banks have USB Type-C ports for all their new devices.
The price range is between $20 and $100. Brands that offer good batteries are Anker, INIU, and Ekrist.
For the content writers – a grammar checker and wireless keyboard
Don't forget the content writers too! Make sure they can create faster and better content with the right tools. Software like Grammarly Business costs only $25 per month per account. It can correct text, make suggestions to imrpove the text and its readability.
And why not also treat them to a wireless keyboard? That way they can feel even more comfortable producing new copy for your next marketing campaign and blog articles. There are many brands with prices starting as low as $20 and can go up to $200. Get a decent one with a rechargeable battery and a nice button press feeling like those from Razer, Logitech, or Corsair.
For you and everybody else – 2-factor authentication USB devices
The current Internet security is a game for masters. There is no 100% way to keep everything safe in your company. But that does not mean that you should not strive for it. Trying to get a 99.99% secure firm is a good goal. One giant step towards it is to add the 2-factor authentication (2FA) method to everybody's login. Passwords, even if you have created long and sophisticated ones, are not considered trustworthy anymore. Google has tried for years to eliminate relying purely on passwords and replace them with 2FA. Its plan is that people use their mobile phones, but we really think a dedicated 2FA USB device is a better choice. It is relatively inexpensive, easy to carry, and has a lower chance to be stolen together with the password and the username of an account.
What specs should you consider? You should think about if it needs to be an old USB Type-A or a new USB type-C, will it have an NFC (near-field communication) chip for wireless authentication, and the new FIDO2 standard. The physical USB 2FA keys cost between $25 and $100. Recommended brands for such a product are Yubico, Thetis, Google, and Kensington.
A small tip. Give them 2 2FA USBs presents per person. One for work, so their job-related emails are secured and another for their personal accounts too. They will definitely feel the personal touch.
For everybody – 1080p or even 4k video cameras
Zoom has become a regular tool since the last year. But the quality of the built-in cameras, inside most of the laptops is dreadful. At best, you can expect a 720p tiny camera sensor. You can make it a lot better for everybody by purchasing new USB cameras for Christmas. There are many brands, but what you should focus on is that the cameras have resolutions of at least 1080p and if you find 4k even better.
The average price goes around $50 to $150 USB for a quality camera, and the brands you can check are Razer, Elgato, and Logitech
For the sales team, you can go even a step further. They need to impress potential new clients and having a real mirrorless camera or DSLR for the video calls might be their ace up their sleeve. Here, the price could easily go up to $1000 and more, so give this some thought before you buy. The popular brands are Canon, Sony, Panasonic, and Nikon.
For you and everybody else – an ERP software
What could help you all save a ton of time and facilitate every aspect of your business? ERP software (Enterprise Resource Planning). By integrating it, you will be able to monitor and control everything from a single spot. You can put it into the cloud and provide access to all the departments in your company, from the supply chain to development, production, marketing, sales, and finance, could all be a part of a single software solution. You can instantly see updates, make forecasts, and control every step of the process in your organization. A great gift for the whole company!
Here we have ideal ERP software for your company. If you are ready to start using one, we recommend a Cloud server or a Dedicated server, which will provide an excellent performance at a reasonable price for your needs.
For your secretary – a smart display
Don't forget the person that is always there for you, the one that helps you in every task and knows you better than your mother – your secretary! Make their life easier with a smart display for their desk: add the power of the voice command to their superb arsenal so they will be able to add new meetings to your calendar, check what the week holds for you and even make video calls with only voice commands. By now, there are many options on the market. You can go with Facebook, Google, or Amazon. Prices start at just under $100 dollars and go up to $300. A good option is Amazon's Echo Show 8 (2021) for $130.
It is jolly nice of you to think about your team at Christmas and you're going to make them happy during holiday season. The smile will stick to your employees' faces and the work will be pure joy! Happy holidays!
What was the topic of the article from the previous week? Well, here it is as a sweet Christmas reminder for you: